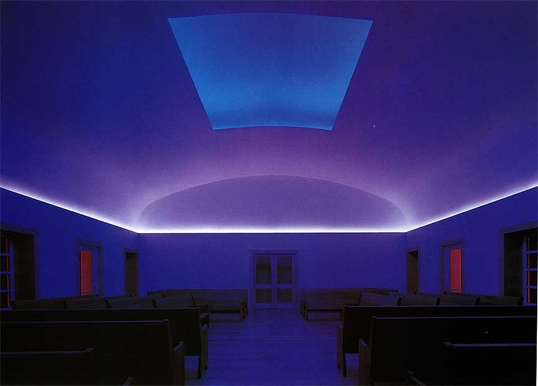 Skyspace at Live Oak Friends Meeting House, Houston, Texas

2000
Retracted skyspace shows light changing as sun sets
Photo by Joe Aker
Courtesy the artist and Live Oak Friends
"That was kind of the Meeting House I always wanted to see. I guess I like the literal quality, or feeling, or sensation, in that I want to feel light physically. We drink it as vitamin D; it's actually a food. We are heliotropic, and it has a big effect on the skin. We also have a big psychological relation to light. All or most spiritual experiences, near death experiences, are described with a vocabulary of light. This quality to feel light exists, almost like we see it in a dream."
- James Turrell
Light has symbolic attributes - as a medium and even as a color.
In this case the use of natural light and the routine it leads is generating the narrative - it's pushing the story along.