How To Build A Bicycle Generator


The intention of this project is to build a straight forward human powered generator from a used bicycle and to use it to power light bulbs, blenders, cell phones, laptops, and other small appliances. This project will help one develop engineering skills, raise awareness of the environment and the power one is capable of making all while learning about a clean way of generating electricity.
___________________________________________________________________
Parts Tools
- 2" X 4" Wood - Wrench
- V-belt - Saw
- Diode - Wood screws or nails
- Battery - Hammer or Screwdriver
- Inverter - Tape Measure
- Wire - Screwdriver
- Motor - Perforated plumbers steel
(12-V or higher) (if motor does not have mounting bracket)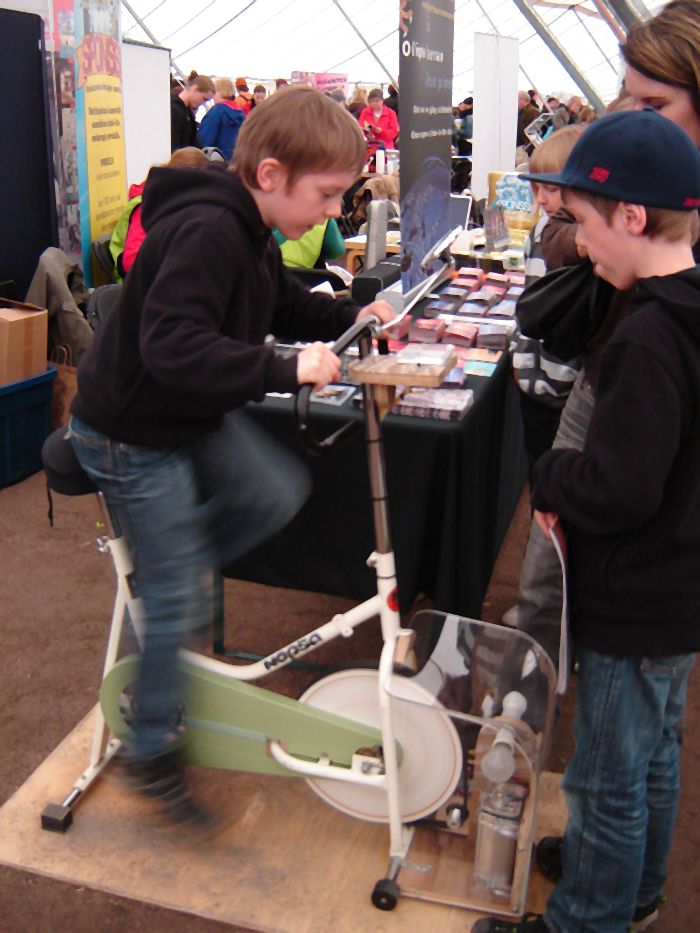 This is a picture of two brothers taken in 2010 at the World Village Festival in Helsinki, Finland. The bike is currently on show at the Kulttuurien Museo (Museum of Cultures) as part of their exhibition on energy titled Once Upon a Time in the Dark.

Exercise bike 1
PRODUCE ELECTRICITY FOR THE BULB AND THE LED LAMP - COMPARE
Switch the breaker in the 0 position.
Ride the bike with speed up to 12 volts.
With the help of the driving wheel and the belt, you produce electricity in
the generator. The electricity you produce is simultaneously charged into
two condensers, the other of which is connected to a 12V/1,2W bulb, and the
other to a 12V/1,2W LED lamp.
Switch the lamps on on the breaker.
With the energy you produced, the bulb burns about 6 seconds, and the LED
lamp about 3 minutes. They use approximately the same amount of energy and
the brightness is approximately the same.

Exercise bike 2
RIDE TO THE NIGHT SKY AND LOOK AT THE WORLD
Seen from the space, how did the Earth look like one hundred years ago? Or a
thousand years ago?

This is the original text in Finnish by Pilvi Vainonen:

Kuntopyörä 1
TEE SÄHKÖÄ HEHKULAMPPUUN JA LED-LAMPPUUN - VERTAA
Käännä katkaisija 0-asentoon.
Polje kiihdyttäen, kunnes volttimittari näyttää 12 voltin lukemaa.
Vetopyörän ja hihnan välityksellä tuotat generaattorissa sähköä. Yhdellä
polkemisella tuottamasi sähkö latautuu kahteen kondensaattoriin, joista
toinen on kytketty 12V/15W hehkulamppuun ja toinen 12V/1,2W LED-lamppuun.
Sytytä lamput katkaisijasta.
Tuottamallasi energiamäärällä hehkulamppu palaa noin 6 sekuntia, LED-lamppu
yli 3 minuuttia. Tänä aikana energiaa siis kuluu kumpaankin lamppuun saman
verran ja niiden valoteho on suunnilleen sama.

Kuntopyörä 2
NOUSE YÖTAIVAALLE KATSOMAAN MAAILMAA
Miltä Maapallo näytti avaruudesta katsottuna sata vuotta sitten? Entä tuhat
vuotta sitten?

Below are some surprising facts on energy and how much simple appliances use:
Appliance

Time in use

kilowatt/hours
used per year

Aquarium

24 hours/day

700

Central air conditioning

12 hours day,
120 days/yr

2700-3780

Clock

24 hours/day

36

Clock radio

24 hours/day

44

Clothes washer
(does not include hot water)

2 hours/Week

31

Coffee maker

30 minute/day

128

Computer

4 hours/day

520

Dehumidifier

12 hours/day

700

Dishwasher
(does not include hot water)

1 hour/day

432

Electric blanket

8 hrs/day,
120 days/yr

175

Fan (furnace)

12 hrs/day,
120 days/yr

432

Fan (whole house)

4hrs/day,
120 days/yr

270

Fan (window)

4 hrs/day,
180 days/yr

144

Hair dryer

15 minutes/day

100

Heater (portable)

3 hours/day,
120 days/yr

540

Iron

1 hour/week

52

Microwave oven

2 hours/week

89

Radio (stereo)

2 hours/day

73

Refrigerator
(frostfree 16 cubic feet)

24 hours/day

642

Refrigerator
(frostfree 18 cubic feet)

24 hours/day

683

Television (color)

3 hours/day

264

Toaster oven

1 hour/day

73

Vacuum cleaner

1 hour/week

38

VCR

4 hours/day

30

Water bed (no cover)

12 hrs/day,
180 days/yr

620

Water heater
(40 gallon electric)

2 hrs/day

2190

Water pump (deep well)

2 hrs/day

730
http://www.consumerenergycenter.org/lighting/bulbs.html