There is a long history of the usage of
BIKES
in Media Art.
Jeffrey Shaw
's
The Legible City (1989) the visitor rides a stationary bicycle through a simulated representation of a city that is constituted by computer-generated three-dimensional letters, forming words and sentences along the sides of the streets. Using the ground plans of actual cities - Manhattan, Amsterdam and Karlsruhe - the existing architecture is completely replaced by textual formations written and compiled by Dirk Groeneveld. Travelling through the cities of words is consequently a journey of reading. The choice of path one takes is a choice of texts as well as the spontaneous juxtapositions and conjunctions of meaning.
Every step in the pedals is transformed into electric energy that lights up a big balloon. In the dark sky the bolloon can be seen from far.
Moon Ride is a sensory encounter with the myths and rites of our light-and-sound-dominated e-culture. At the same time, it is a minimalist reflection of our electronic world that makes visible the charging and discharging processes inherent in everyday life. Participants
form a mighty human battery to combine their output as individuals. This confluence, this visual fusion of the physical exertions of many, brings about a communal experience borne by the pure joy of taking part in a physical act of power and making an oversized source of light glow like a supernova. This is a form of electronic-industrial mass-level gratification whose climax is the final illumination of the balloon.
This following example doesn't involve bikes, but instead energy made from dancing. Rotterdam's nightclub WATT has a dance floor powered by the people. Eco Disco!
Click
here
to read more about it.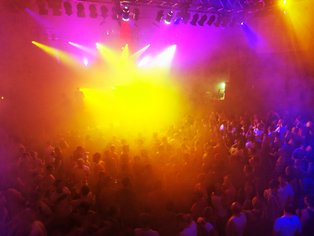 The project, titled
Welcome to Pine Point
, was created by
The Goggles
(Paul Shoebridge and Michael Simons), a Vancouver-based duo, is a good example of how to trigger nostalgia.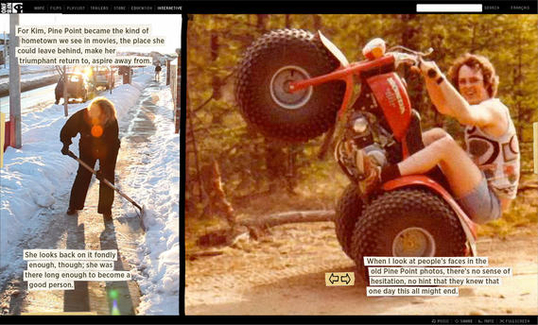 How do you describe the project when friends or family ask what you've been working on?
Mike Simons: It's a bit tricky. We're not really able to compare Pine Point to anything else out there, because we're not seeing other projects like it. It's a new form of storytelling, really, so in conversations with people, I don't know how to call it. It's not a website, it's not an interactive doc… what is it? Coming from print, part of the process for us was minimizing the interactivity to only those elements that serve to forward the narrative. We're in a bit of uncharted territory here.
Paul Shoebridge: Coming from a print background, we were interested in doing something that retained some of the active elements of book reading. When you're in front of the TV, you relinquish control of the experience. You are passive. With a book, you're the narrator. You have to read the words yourself and make sense of them in your head. You have to paint the walls in the story yourself, so to speak. For Pine Point, we chose not to have a voice-over narration, but to let people be their own narrator. We tried to strike that perfect balance of passive and active, of visuals and words. (Click here to read the rest of the interview.)
Bikes for ecological awareness and for sustainable society:
The French Eco Village

Passerelle Eco created

Bricolage d'une machine à laver à pédales

in

2008. Click here for directions on how to make it yourself.